Can I install a woodburner in a Victorian fireplace?
Yes, but you may have to make a few modifications to the cast iron surround in order to squeexe a woodburner in. There's only a selection of woodburners which can be used due to sweeping requirements and size. See type of woodburner for a Victorian fireplace below.
Most Victorian fireplaces have a fireback in place, which can be easily removed to gain extra depth for your woodburner.
Naturally, you would choose a woodburner which is slightly smaller than the recess, the decorative elements protruding under the hood of the surround are occasionally removed to gain those vital extra few centimetres.
What woodburner can I fit into a Victorian Fireplace?
One factor which reduces your options when choosing a woodburner for a Victorian fireplace is sweeping access. HETAS regulations now state unrestricted sweeping access is a requirement when installing woodburners. Therefore, using a T-Piece vitreous pipe is generally not an option when installing a stove in a Victorian fireplace, due to the 90 degree bend which is difficult for chimney sweeps to get their brushes around.
The solution is to use a rear flue adaptor. A rear flue adaptor allows for easy sweeping access through the stove, although generally are only produced by the manufactures of some woodburners.
Most woodburners require an air gap around the woodburner of at least 50mm. So using a rear adaptor brings the stove forwards into the room and provides the air circulation reuqired and additional heat into the room.
We generally fill around the base of the chimney with Rockwool in order to stove any soot etc from failing down the chimney
We have provided a couple of examples below of woodburner installations in a Victorian fireplace.
Which woodburner manufactures supply a rear sweeping adaptor?
We often supply and install woodburners from Ecosy, a company who offer good value, quality stoves and rear sweeping adaptors seperately for around £45. We sell the Ecosy Purefire Curve stove pictured below for £480, which measures 387mm width x 560mm height.
Charnwood also provide a rear adaptors, although their adaptors retail at around £85 for basically the same thing.
The Charnwood C4 is a similar looking woodburner to the Ecosy Purefire, but is slightly wider at 416mm x 560mm and the stove retails around twice as much as the Purefire Curve.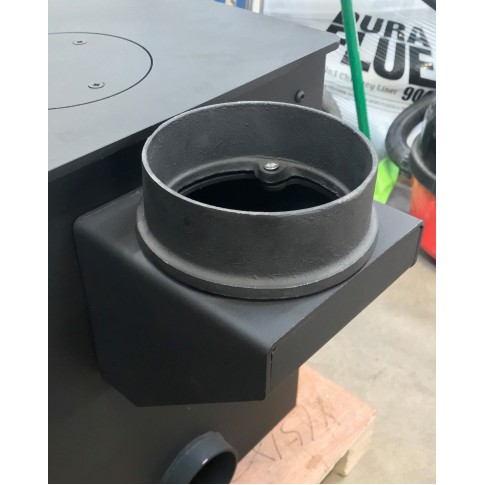 Ecosy Rear Adaptor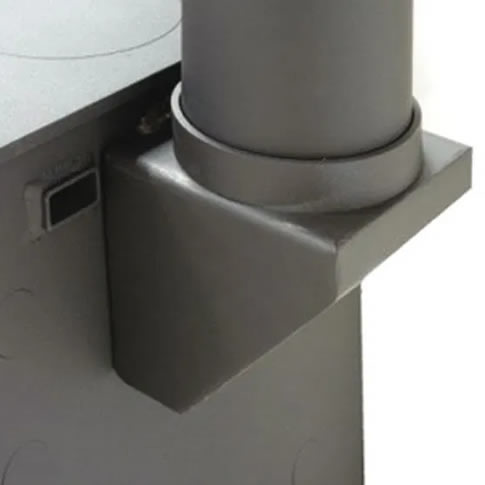 Charnwood Rear Adaptor
If you live in the Somerset area, please call for a FREE no-obligation survey and quote on 07715 104420.