Can I install a woodburner in a new build property with a false chimney breast?
Yes. We normally construct a false chimney breast out of metal stud and fireboard after installing a twinwall insulated chimney system through the wall. This project involved installing a Charnwood C4 Blu woodburner using a twinwall chimney system within a false chimney breast in a new build property built after 2008.
Can you construct a false chimney breast in our new build property?
Yes. This customer wanted a chimney breast in their property built in 2015. They wanted it to act as a focal point together with brick slips on the rear of recess to bring some character in to the room.
What is the process for building a false chimney breast and installing a woodburner in a new build in Taunton and Somerset?
Phase 1: We initially positioned the Charnwood C4 Blu woodburner on the slate hearth central to the wall and installed the twinwall chimney system, before removing the stove out of the way.
Phase 2: Once the twinwall was in position and secured. We could then construct the metal stud framework and remove the rear plasterboard at the rear of the recess.
Phase 3: We then fire boarded around the recess and the front of chimney breast, using plaster boarded only for the sides.
Phase 4: We then installed some individual brick slips to rear of recess, which we pointed with a cream mortar before installing the a Charnwood C4 Blue woodburner.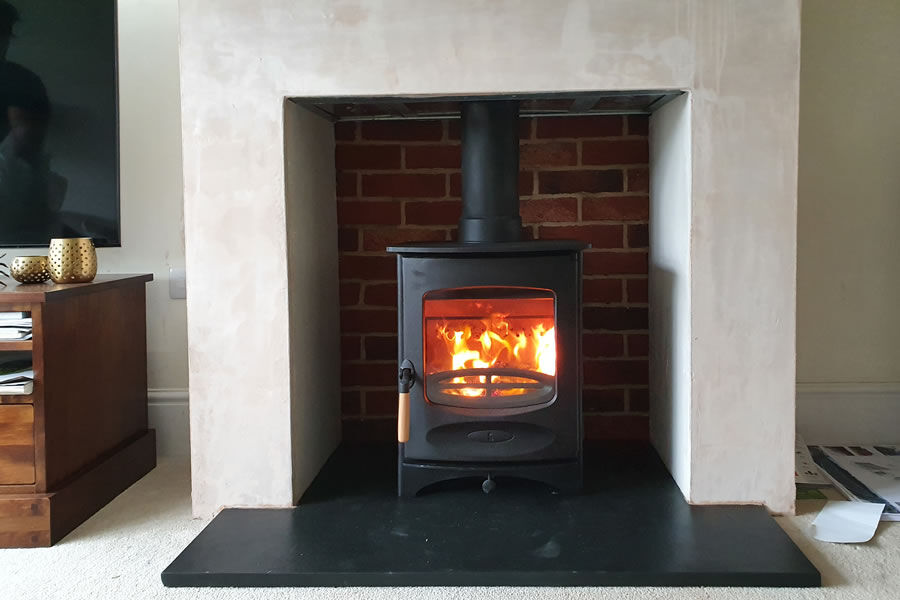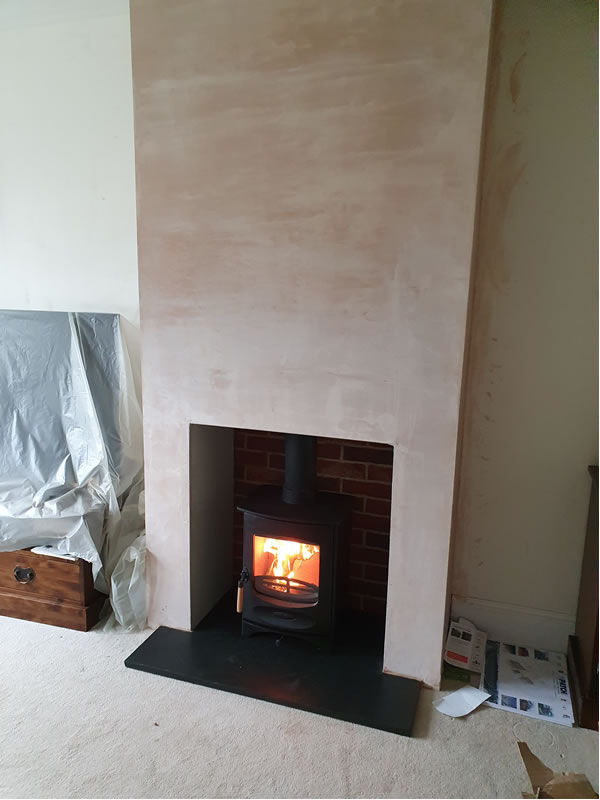 Do new build properties built after 2008 need an air vent for a woodburner?
Yes. All new build properties built after 2008 will require an air vent for any woodburner installation. We are required to install an air vent through the wall, hidden behind the stove in order to meet HETAS regulations. HETAS state an air vent is required in properties built after 2008 for any Kw stove. The Charnwood C4 Blue wooburner is 5Kw so requires 550mm2 of air per Kw = 2,750mm2
The Charnwood C4 Blue woodburner is an attractive and popular woodburner, which meets new SIA emissions regulations due to be enforced in 2022. We can supply the Charnwood C4 Blue woodburner which is Defra approved and comes with a 10 year warranty.
Trust Cosy Stoves with Great Reviews and No Upfront Deposits For Your Peace of Mind.
Cosy Stoves usually charges no upfront costs for your peace of mind and we can supply all stoves and materials and have a commercial waste carrier's license to dispose of all waste materials.
Call use today on 07715 104 420 if you want a false chimney breast and woodburner installation in your new build or any property.